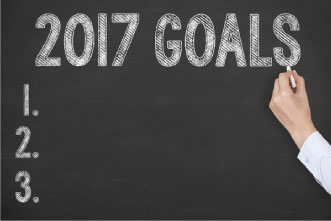 We made it! We made it to 2017 and it is time to look at what's ahead. My crystal ball is still a bit cloudy about what is in store once the new administration takes over on January 20. However, it is clear that we are not likely to see changes in Affirmative Action regulations for a while—at least not until a new Director of OFCCP is appointed. We have to assume the agency will operate as is under the Interim Acting Director, Tom Dowd. We also have to keep in mind that right before Patricia Shiu left the OFCCP Director role in November, she added a new Senior Executive Service (SES) level position in the National Office, Director of Enforcement, placing Marika Litras in the role. Judging from some recent press releases and other activity, OFCCP still intends to vigorously enforce the existing requirements.Some experts believe the OFCCP under President Trump will be more employer friendly and perhaps more understanding about how businesses really operate. Some think that immediate changes to affirmative action requirements will be modest with the administration focused on more pressing matters such as changes to the Affordable Care Act, and (possibly) rescinding recent Executive Orders affecting contractors, etc.
What should you do in the midst of the uncertainty about what direction the agency will take? Continue to remain in compliance—stay the course. This article will provide six New Year's AAP Resolutions that can help focus your energy in a helpful direction.
Examine the data, data, data—Review the data you will use for the AAP. Pay attention to the details and accuracy. There is no excuse for inaccurate data and sloppy recordkeeping.
Find applicants for all hires—This is not new. The OFCCP pays the rent by going after discrimination in hiring. Every hire should have an applicant pool and only in very rare situations should that pool only contain one (1) applicant for one (1) hire. While you are at it, examine disposition reasons to see if they adequately explain why a job seeker or applicant was not selected.
Check out disability self-identification—We are in the interim period. When the revised 503 regulations went into effect in 2014, employers were required to solicit voluntary self-identification from employees about their disability status. Employers are required to continue to solicit this information every five years using the OFCCP prescribed form. In the interim period between solicitations, employers are required to REMIND employees (at least once) that they can change their disability status at any time.
Get to know your Purchasing or Government Contracts department—Find out who can provide you with information about your company's federal contracts or sub-contracts. You can also go to several websites to find out about your company's contracts. The Federal Procurement Data System's website has current and past GSA contract information: www.fpds.gov You can also visit www.usaspending.gov.
Spend time with Staffing—You may call them Recruiters, Talent Acquisition, or Staffing representatives—they are the ones out there searching for the best and the brightest. Find out what they are doing with searches; where your company's jobs are being listed, posted or otherwise advertised; what relationships they have with placement organizations; what records they are keeping (or not keeping); and what their plans are for 2017 to attract top talent.
Surf your own website—At least the webpages that are seen by applicants and employees. Are they up-to-date and accurate? Do they have all the required EEO postings? Are they easy to navigate—especially for someone with a disability who may be using a screen reader or other assistive device? Are links working?
This is not meant to be an exhaustive list of "to do" items for 2017, but it should get you started and keep you busy while we wait for a new OFCCP Director.