On September 24, 2016 Berkshire employees and their families joined members of the community for the Alzheimer's Association's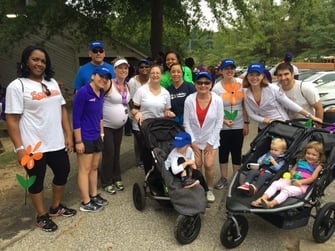 2016 Howard County Walk to End Alzheimer's. Participants solicited sponors, and the team raised $2,490. Berkshire then matched that for a total of $4,980! The Walk to End Alzheimer's is the world's largest event to raise awareness and funds for Alzheimer's care, support and research. The fight for a cure to end Alzheimer's is a cause near to Berkshire's heart because in 2012 our founder, Dawn S. Hyde, passed away from the disease.
Berkhire is proud to assist the Alzheimer's Association with their mission to advance care, support and research for individuals with Alzheimer's across the world. Berkshire's philanthropic program encourages employees to increase their presence in the community by participating in activities of community organizations. Throughout the year, Berkshire provides numerous opportunities for employees to give back and support the community with financial and human resources. We look forward to participating in many more philanthropic opportunities in Howard County and beyond.