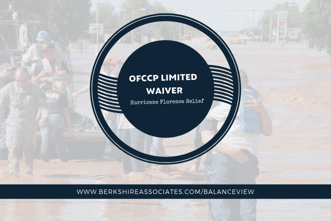 On Monday, September 17, 2018, Craig Leen, Acting Director of OFCCP, issued a National Exemption (NIE) Memorandum to federal contracting agencies notifying them to grant a limited exemption to new supply and service or construction contracts specifically created to provide Hurricane Florence relief.
This exemption goes into effect on September 17, 2018, through December 17, 2018, (subject to an extension) and waives the requirement to develop written affirmative action programs under the three OFCCP regulations, Executive Order 11246, Section 503 of the Rehabilitation Act, and Section 4212 of the Vietnam Era Veterans' Readjustment Assistance Act (VEVRAA).
The exemption applies only to new contractors and subcontractors. If a company already has contracts with a federal agency requiring them to complete affirmative action plans, the exemption does not apply.

Federal contractors who are provided the exemption will continue to be subject to nondiscrimination requirements and must post the "Equal Opportunity is the Law" notice, obtain and retain all required records, and list job openings with the appropriate employment service delivery system as required under VEVRAA.
According to the FEMA website, the designated areas impacted by Hurricane Florence are North Carolina, South Carolina, and Virginia.
Berkshire Associates can help federal contractors who need assistance with preparing compliant annual AAPs on time. If you have specific questions about how to best to prepare your AAP, please contact Berkshire Associates at bai@berkshireassociates.com, or 800.882.8904.