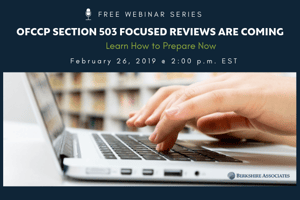 Duration: 60 minutes
Cost: Free
Recorded: February 2019
Presenter: Lynn Clements, Director of Regulatory Affairs
OFCCP recently announced it would conduct focused reviews of federal contractors' Section 503 compliance during its Fiscal Year 2019 scheduling cycle. The agency also checks Section 503 compliance in every current compliance review.
In this series of webinars, Berkshire compliance experts help contractors prepare for this new type of compliance review. The webinar series started with a one-hour overview. In the first session, Lynn Clements, a former OFCCP and EEOC official who now serves as the Director of Regulatory Affairs at Berkshire Associates, explains how contractors are selected for a focused review and what contractors can expect if selected for a focused review. The first webinar, took place on February 26, 2019, and reviewed the Section 503 compliance items that are checked by OFCCP during all compliance reviews and provide practical tips on how contractors can prepare for a focused review of their Section 503 practices.

Subsequent ½ hour sessions in the
webinar series
takes a deeper dive into the following Section 503 compliance topics:
Check back or click here receive alerts for the subsequent webinar dates and times directly to your inbox!