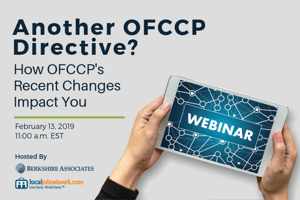 Due in part to many new directives, a lot has happened at OFCCP since Director Craig Leen took over in August. Join us for this free webinar hosted by Berkshire Associates and LocalJobNetwork, as Lynn Clements, Director of Regulatory Affairs, shares insights on the 2018 directives issued, how the new directives are impacting contractors, and what contractors can expect during upcoming audits.
Attendees will leave this webinar with a better understanding of how these changes may affect them and a forecast of what compliance enforcement efforts will look like in 2019.
Topics covered include:
Review each new directive
Importance to OFCCP's enforcement practices
How they impact your compliance efforts
Preparing for what's to come in 2019
This webinar will air live on February 13, 2019, at 11:00 a.m. EST. To register click here. Spaces are limited!
To learn more about this webinar, or if you need assistance with OFCCP compliance, contact us at 800.882.8904 or webinars@berkshireassociates.com.