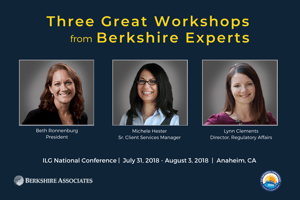 Columbia, MD – July 30, 2018, Berkshire joins industry experts for the 2018 ILG National Conference in Anaheim, California. This year's conference is sure to give employers involved and interested in OFCCP compliance practical tools for AAP preparation, OFCCP audits, pay equity, applicant tracking, and more.
This year, Berkshire will facilitate three separation sessions:
During her July 31 session, Lynn Clements, Director, Regulatory Affairs, will discuss new OFCCP enforcement trends, review unique issues impacting colleges and universities, and provide practical tips for how academic institutions can survive an OFCCP compliance review in this new environment. The session is titled, "It's Academic: Tips for Surviving an OFCCP Audit of Higher Education Institutions."
On August 2, Beth Ronnenburg, Berkshire's President, will partner with Francisco Torres of M&T Bank, to share tools that show leadership the value of affirmative action. The session is titled, "Strategies to Get Leadership's Attention When You're Not Under Audit."
In an afternoon session, Michele Hester, Senior Client Services Manager, will give attendees best practices for managing fair pay requirements. The August 2 session is titled, "Setting Base Pay: Top Strategies for Collaborating with Compensation to Achieve Pay Equity from the Start."
These three sessions cover timely topics that you don't want to miss. Don't forget to stop by Berkshire's booth #805 to enter to win an Amazon Echo Show, Fitbit Versa, or Amazon gift card. Our staff is excited to share our compliance and pay equity expertise with employers.