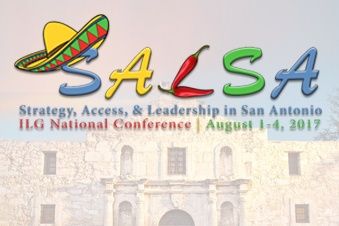 Columbia, MD—Berkshire Announces today that Beth Ronnenburg, SPHR, SHRM-SCP, President of Berkshire Associates, and Lynn Clements Director of Regulatory Affairs at Berkshire Associates, will collaborate with industry experts in four separate sessions August 2 and 3 at 2017 ILG National Conference in San Antonio, Texas.
Beth brings over 20 years of HR and management expertise in the federal contractor community and is committed to sharing her knowledge with fellow ILG members. During this year's conference Beth will present on the following:
Strengthening Your Local ILG: During this session, Beth will share tips on establishing bylaws, recruiting members, and planning successful and informative meetings to help participants strengthen their local ILG chapter. This workshop takes place on Thursday, August 3 from 7:15 a.m. – 8:00 a.m.
What Would You Do? Play Along as We Address Applicant Issues: Inspired by the popular television series, "What Would You Do?", Beth will collaborate with Lynn Clements, Berkshire's Director of Regulatory Affairs, to present on important issues related to applicant tracking and recruitment. Attendees will participate in an interactive presentation with Beth and Lynn where they will review several scenarios related to applicant data and vote on how they would personally handle the situation. Results will be tabulated and displayed to the group, and potential solutions for each scenario will be discussed as well as the pros and cons of each approach and any compliance and audit repercussions. This workshop takes place on Thursday, August 3 from 9:30 a.m. – 10:30 a.m.
Additionally, Lynn will bring her unique perspective to the conference with two workshops that will inlcude:
The Compensation Interview: "Oh I didn't mean to say that" and Other SALSA Dance Moves to Try: In this interactive presentation, Lynn will present with Tim Orellano of The Human Resources Team. The two will discuss the dos and don'ts for answering OFCCP's interview questions, and practical strategies that will allow companies to successfully explain and defend their pay practices to the government through role playing. This workshop takes place Wednesday, August 2 from 9:30 a.m. – 10:45 a.m.
The Gig Economy: The Increasing Use of Contingent or Temporary Workers and What It Means for OFCCP Compliance: On the Thursday, August 3 session, Lynn will collaborate with Michelle Duncan of Jackson Lewis. Together they will address the increasing use of alternative employment relationships such as freelance, contingent, on-call, and temporary workers—otherwise known as the "gig" economy. Participants will gain insight into how these alternative employment relationships are being met by OFCCP and will learn pragmatic strategies that will allow employers to stay on the cutting edge of this issue. This workshop takes place on Thursday, August 3 from 2:15 p.m. – 3:30 p.m.
Berkshire encourages all ILG National attendees to attend these conference sessions, and stop by the Berkshire booth to learn more about our affirmative action compliance solutions.