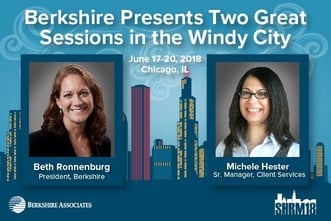 Berkshire's President, Beth Ronnenburg, SPHR, SHRM-SCP, will present at the SHRM Annual Conference & Exposition in Chicago on June 17 - 20, 2018. With over 20 years of industry experience, Beth will offer an in-depth perspective on how to structure your applicant tracking process for compliance. Beth will be joined by Michele Hester, SPHR, SHRM-SCP, Senior Manager of HR Services, who will be presenting at SHRM for the second year in a row. Michele's proven expertise in pay equity will offer attendees strategies to address the current pay disparity facing many organizations.
Beth and Michele will offer attendees timely advice in two sessions:
On June 19, 2018, at 7:00 a.m. in room E350, Beth will share a step-by-step guide to evaluating your applicant tracking process for regulatory compliance as well as insight on audit trends regarding applicant data in her session, "How to Audit Your Applicant Tracking Process for Compliance."
On June 19, 2018, at 10:45 a.m. in room E352, Michelle will share tactics for developing sound pay practices within an organization in her informative session, "Pay Equity Compliance: Effective Strategies for Managing and Ensuring Fair Pay in the Workplace."
Each year this conference brings together over 15,000 HR professional and experts in the field to share insight, tips, tactics, and new practices in over 200 concurrent sessions. We encourage all SHRM attendees to include these sessions in your session schedule. Also, stop by Berkshire's booth #1814 in the exhibit hall to learn more about our HR products and services. You can also enter to win an Amazon Echo Show, Fitbit Versa, and Amazon gift card. Our staff is excited to share our compliance and pay equity expertise with HR professionals.