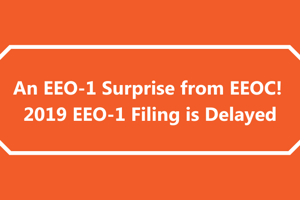 The long-anticipated announcement about the opening of the 2019 EEO-1 filing season is finally here and it is a SURPRISE!!! EEOC announced today that it will delay the collection of the 2019 EEO-1 reports until March 2021. The 2020 EEO-1 data will be collected at the same time.
An announcement is expected in the Federal Register on May 8th. That document explains that the reason for the delay is due to COVID-19. EEOC is being consistent with other federal reporting delays and actions designed to relieve employers of unnecessary burdens during the COVID-19 crisis. EEOC believes that the delay will help filers provide accurate, valid and reliable data in a timely manner.
The anticipated collection was submitted to Office of Management and Budget (OMB) on March 23, 2020 and approval is pending. Employers will be notified by the EEOC of the date that the EEO-1 survey will open as soon as it is available.
For companies who must file EEO-3 report (Local Union Report) or EEO-5 report (Elementary-Secondary Staff Information Report), the data collection period for the 2020 reports is anticipated to be January 2021. Filers will be notified by the EEOC as soon as the date is available. EEOC will update their website and reach out directly to companies and organizations who must file EEO Surveys.
Berkshire clients are encouraged to continue working with their consultants to complete the 2019 EEO-1 reports now rather than waiting until 2021. This will ease the burden of data collection by companies as they anticipate filing two years of EEO-1 reports when the site opens in 2021.
More information about all EEOC surveys can be found on the EEOC website survey page.