It shouldn't come as a surprise that recruiters around the country are ramping up their efforts to hire the top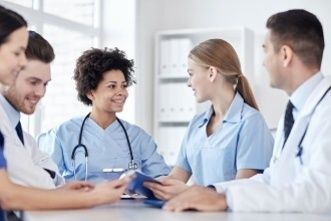 healthcare talent available. The Bureau of Labor Statistics reported the nursing industry will grow 15 percent between 2012 and 2022.
According to Career Builder, there will be a need for around 1.2 million more nurses. HR departments will need to solidify their strategies in order to ensure they fill these vacant positions.
Use metrics to your advantage
We recently wrote about how metrics can help streamline a recruiting campaign to make sure funds are being spent in the right direction. This will be critical moving forward for recruiters in the healthcare industry, as time will increasingly be of the essence.
"Standardizing recruiting is key in a tough market."
By using an applicant tracking system (ATS), HR departments can standardize their practices and use data to understand which job boards connect them with individuals who most often make it to the interview stage. Understanding these statistics are key in narrowing down your search in order to hire top talent faster.
An ATS can also help increase retention rates, which is the best place to start when having to hire in the industry, Career Builder reported. By ensuring those who make it to the interview stage meet almost every single criteria on the job listing, you have a better chance at finding the perfect fit for your company.
Be responsive during the process
Considering there will be a shortage of nurses, recruiters will face a candidate-driven market. According to Healthcare Finance, the way you conduct your campaign will say a lot about the company, and could boost your chances of hiring top talent.
"People react negatively to poor treatment during the hiring process and are likely to view such poor treatment as a negative indicator of the organization's culture," Fred Morgeson, professor at Michigan State University, told the news source.
An ATS can be programmed to automatically email candidates' responses about whether they are moving on to the next round, or not being considered. This will result in positive feedback for the company. According to a Glassdoor survey, 62 percent of users experience improved perception of a company after seeing them respond. Simply by being courteous and responding to all candidates, as well as public reviews, you can position yourself to attract more prospective employees.
By streamlining and standardizing your recruiting campaign with an ATS, responding to every candidate, and vetting them thoroughly before hiring, your HR department will be in an excellent position to thrive under this employment shortage.
To learn more about recruiting professionals in the healthcare industry, read the following article "The Healthcare Industry and Talent Acquisition: Managing Unique Needs," by Cheryl Boyer, SPHR, SHRM-SCP, Vice President of Client Services at Berkshire Associates. Cheryl spent over 10 years in Human Resuorces for a health system, and shares valuable information on tackling the challenges of sourcing candidates in the healthcare industry.