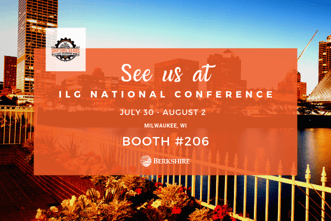 See Berkshire at this year's annual
ILG National Conference
being held in Milwaukee, WI on July 30 - August 2, 2019. The ILG National conference
is the premier meeting ground for those involved in the affirmative action, equal employment opportunity, and diversity & inclusion fields. Attendees are encouraged to stop by Berkshire's booth #206 for an opportunity to speak with our experts about affirmative action, pay equity, and talent acquisition solutions. Berkshire is also giving away great prizes! You could win a $200 Southwest Gift Card or a $150 Amazon Gift Card.
We are pleased to also announce that Lynn Clements, Directory of Regulatory Affairs at Berkshire, is presenting Under the Microscope: How the Government Examines Your Employment Practices Under ADA and Section 503 on Thursday, August 1 at 11 a.m. This session will show attendees common company practices that might come under scrutiny during compliance reviews. Using actual case scenarios from government enforcement actions, attendees will learn how the government thinks you should comply with ADA and Section 503.
To register for the ILG National Conference, click here.