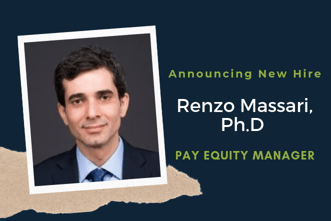 COLUMBIA, MD—August 19, 2019, Berkshire Associates Inc., a leading human resource consulting and technology firm, announces the appointment of Renzo Massari as its Pay Equity Manager. With over 15 years of experience in micro-econometrics and quantitative data analysis, Renzo brings to Berkshire advance-level data capabilities, and an extensive background that will serve to expand our pay equity and affirmative action solutions.
Renzo's appointment strengthens Berkshire's mission to help AA/EEO leaders use data to gain greater insights, and fuel actionable strategies that remedy compliance issues. He will be responsible for managing Berkshire's pay equity line of business by promoting the ability to conduct meaningful, proactive statistical analyses of clients' compensation data in support of federal, state, and/or local fair pay laws.
Renzo's prior experience includes working at ERS Group, where he performed statistical analyses on pay and other employment related data for labor litigation and to drive employment decisions. Most recently, Renzo worked as an Econometrician and Data Scientist with The World Bank, and over the years, has worked in all stages of the data pipeline, from research design, through analysis, to presenting results to clients and stakeholders
"Renzo brings a depth of research and data-science experience that further enhances Berkshire's ability to provide expert advice for pay equity and other complex employee related data analyses. As companies increasingly look for smarter analytics to help guide decision-making, we want to ensure Berkshire is there to provide top-tier data science capabilities. In the end, companies will benefit from greater insights into their employment and compensation practices," says Cheryl Boyer, SPHR, SHRM-SCP, Vice President of Client Services.
Renzo holds a Ph.D. in Economics from Duke University and a Bachelor of Science in Economics from Universidad del Pacifico.
For inquiries, please contact Becca Pipitone at beccap@berkshireassociates.com or 800.882.8904 ext. 1317.