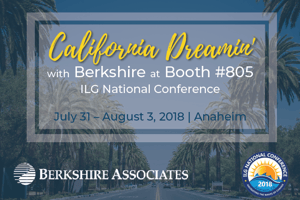 Join us at the 2018 ILG National Conference from July 31-August 3 in Anaheim, CA. Stop by our booth #805 and enter our drawing for a chance to win great prizes, awesome giveaways and helpful tips to keep your company compliant. Let's connect.
This year Berkshire is coming to Anaheim with the latest in compliance updates and strategies. Be sure to attend these great workshops featuring Berkshire's very own:
Lynn Clements
Director, Regulatory Affairs
Tuesday, July 31 at 2:45 p.m.
I
t'
s Academic: Tips for Surviving an OFCCP Audit of Higher Education Institutions
President, Berkshire Associates
Thursday, August 2 at 9:45 a.m.
Strategies to Get Leadership's Attention When You're Not Under Audit
Senior Client Services Manager
Thursday, August 2 at 4:15 p.m.
Setting Base Pay: Top Strategies for Collaborating with Compensation to Achieve Pay Equity from the Start
This annual conference never falls short on offering employers a platform to learn and discuss the latest in OFCCP compliance and EEOC issues. We cannot wait to see you in Anaheim!
A full schedule of the event sessions and speakers can be found here.