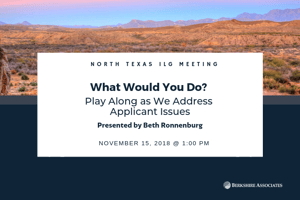 What do you do when faced with applicant data challenges? Beth Ronnenburg, President of Berkshire, will present real-life scenarios related to managing unusual or challenging applicant situations to participants in an interactive presentation Inspired by the popular television series, "What Would You Do?" At the North Texas ILG meeting on Thursday, November 15, 2018, Beth will explore the different ways of managing situations such as evergreen requisitions, working with temporary staffing agencies, or using data management techniques.
During this presentation entitled, "What Would You Do? Play Along as We Address Applicant Issues," attendees will have a chance to discuss and share how they would handle each scenario from multiple perspectives and learn the pros, cons, and impact of each approach. The answers to the complex compliance issues that attendees face on the job are rarely cut and dry, and participants will leave this meeting with a better understanding of the comprehensive thought process that needs to occur when addressing applicant tracking and management.
This meeting will be held on November 15, 2018, at Essilor of America in Dallas, TX, at 1:00 p.m. The meeting is open to the public but please keep in mind seating is limited. Please RSVP to northtxILG@gmail.com to reserve your seat.
Need a Speaker for Your Next Local SHRM or ILG Meeting?
If you are interested in scheduling a Berkshire speaker to present on AA/EEO topics at your organization's next event, please contact us today.