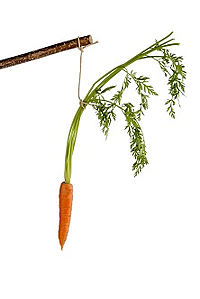 A popular question I often get asked is from individuals tasked with the responsibility of gaining buy-in from their organizations for affirmative action planning (AAP) initiatives. During my interactions I often advise two alternatives, or a blend, depending on the culture of the organization and the acceptance of the principles of affirmative action (AA). This advice is known as the "carrot-and-stick" approach.
The "stick" approach can be used when the atmosphere surrounding AA is more of an obligation, or perhaps something that has been seen as a lower level item on the company's to-do list. This method is a more hard line approach, and highlights other companies who have encountered court cases and monetary damages as a result of an Office of Federal Contract Compliance Programs (OFCCP) or Equal Employment Opportunity Commission (EEOC) investigation. At Berkshire, we find it best to emphasize companies similar in industry and size to make it more realistic and relatable. Many times companies are unaware of these findings, and upon hearing them it often alters the way they think about the AAP when it can be tied to negative press and monetary damages.
The "carrot" approach is best for organizations that are more philanthropic in nature, but the AAP may have fallen to the wayside, or is seen as more of a compliance check-off. In this case you would want to highlight the benefits of the AAP such as a springboard for the much awaited diversity initiative. It is also good for your bottom-line. Remember, people want to do business with people who they can relate to and create relationships. One of the main components of the AAP focuses on the evaluation of whether your employees mirror the surrounding community. So, by recruiting a diverse group of candidates you are actually building up your organization. Remember to have your recruiters and employees network in your backyard, utilizing open houses, career fairs, and community service to get your brand out there and make people want to work for your company!
In the end, the most successful way to get buy-in is to know your company, understand what is important to them, and incorporate that into your message.
For more information, please contact Berkshire Associates at 800.882.8904.