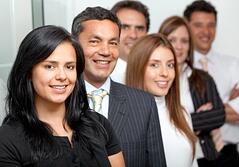 In a time when companies are looking for ways to reduce expenses, one of the first items on the chopping block tends to be human capital investments. Human capital includes education, knowledge, experience, and skills of employees. Many companies argue programs such as educational assistance, mentorship programs, health/wellness programs, etc. are not a necessity when they are looking for ways to trim their budgets. However, organizations who recognize the importance of human capital and workforce balance realize their employees are the core to success and sometimes survival.
Companies who invest in their employees understand enrichment programs are directly related to increased productivity, attraction of sought out talent, and a competitive advantage over competitors. An employer invested in promoting human capital will see these practices have a solid return on investment. It all comes down to hiring the best people and investing in resources to train them—which helps them do their jobs better and have a vested interest in the success of the company. These employees tend to be more productive, make more sales, design innovative products, successfully interact with clients, and directly contribute to the bottom line.
You may be wondering "What programs are worth the investment?" This decision may be directed by your industry. If you are a client focused company, an investment in customer satisfaction programs may be at the top of your list. Or if you are trying to grow your organization, a focus on project management training or sales skills may benefit you the most. The first step should be to evaluate where you are growing, or what markets you are expanding into, and then decide which programs are best. Perhaps your organization requires specialized trainings or certifications to grow the business. Do not invest in programs because they are the "hot" trend in the employee benefits market. Instead, invest in programs that can tie directly to your organization's goals.
Lastly make sure the objective of the human capital program is to maximize the company's investment in its people. You should think ahead to what you are trying to achieve, and what the desired results will look like, and then determine how you will assess your performance and what your benchmarks are for success.
There is no doubt—top performing companies invest heavily in human capital, and they have a clear understanding of what competencies are required to reach these goals. Now is the time to determine what characteristics your ideal employee possesses, and make a plan to create programs to shape your employees to model these ideals.