One of the goals of any great organization is to recruit the best talent. With proven skills and dedication to complete a task, recruiters may be missing out on top talent if Veteran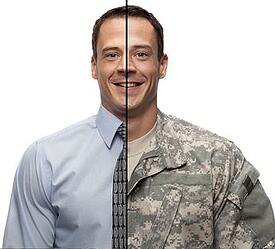 recruitment is overlooked. In addition to keeping your organization compliant with Office of Federal Contract Compliance Programs (OFCCP) regulations, hiring Veterans invites unique and valuable experience into the workplace. Below are some great qualities which enable former military personnel to be an asset to your organization.
Leadership: An indefinite skill Veterans acquire during their service is the ability to lead. The military trains people to facilitate and accept responsibility for orders. Their success in the military proves their capability to work in a team-orientated and hierarchical environment.

Team players: Veterans understand the importance and necessity of teamwork. They know how to effectively receive and give orders. Due to the diverse environment of the military, they also possess the ability to work with various races, religions, genders, and ethnicities—an essential trait of any awesome team player.

Independence: Military experience ensures training in handling and properly executing projects without step-by-step guidance. Veterans' ability to self-motivate, as well as independently assess and solve problems, makes them suitable for various work places. Employers looking to hire well-rounded and self-sufficient candidates should not over look the training, service, and former military lifestyles of Veterans.

Ability to work under pressure: The military environment can be extremely demanding, forcing military personnel to work under circumstances that are not ideal. However, no matter how stressful the environment, tasks must be completed correctly and in a timely fashion. The ability to work under stress and perform under pressure is a quality all employers should look for in potential candidates.

Time management: Former military personnel are able to accomplish assigned tasks on time. They are often required to multitask and quickly execute responsibilities.
In addition to adding top talent to your team, recruiting and hiring Veterans also keeps your organization compliant with OFCCP regulations. For information on the OFCCP's requirements for hiring Veterans, read "The First Glimpse at New Regulation Enforcement." To learn about how Berkshire's software can help your organization keep track of Veteran outreach efforts contact Berkshire Associates at 800.882.8904.