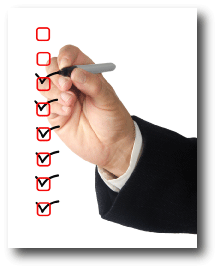 Most employees, including managers, dread performance reviews. Although organizations vary in procedures, there are some fundamental best practices that will ensure a smooth process for everyone.

Prepare—Employees should be aware of the way in which they will be evaluated. Managers should specifically describe what they expect of employees and how performance will be evaluated. This will limit confusion during the evaluation. Also, to avoid last minute misunderstandings and chaos, when performance review time is approaching, everyone should be given notice.

Conduct Periodic Reviews—As a manager, you are the coach of your team. Coaches do not wait until the end of the season to address issues, concerns, or give feedback. Holding regularly scheduled meetings with employees will allow employees to improve in areas as needed. In addition, managers should also give praise and recognition throughout the year. The acknowledgement of a job well done can increase employee retention rates, lead to better quality of work, and encourage confidence in the work place.

Set Goals—Goals should be set for employees because they provide a more distinct platform from which their performance can be evaluated. Periodic reviews should address employee's progress in completing their goals. Not only should expectations of one's performance be made clear, but their goals should be linked to company goals. Demonstrating th e connection between individual employee goals and company goals signifies the impact employees have on your organization. This strategic approach can lead to an improvement or continuation of the quantity and quality of work. At the conclusion of the performance review, new goals should be made clear and best practices to complete these goals should be evident.

The burdensome feeling that typically ensues performance review time can be eased if the groundwork for them is laid all year. Performance reviews should be viewed as continual progression, not a single occurrence.