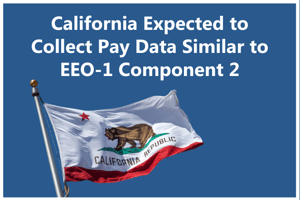 As we have detailed, the Equal Employment Opportunity Commission requested to remove the collection of W-2 pay data from the standard EEO-1 report, suspending the effort to collect compensation data from organizations nationwide. In response, it is expected that the Governor of California will sign into effect a law that effectively ensures that California will continue to collect similar information beginning in March 2021 for any private employer with 100 or more employees in the state.
This information is expected to be used to determine the wage gap by race, gender, and combined race and gender at organizations. However, since the data requested will not take into account common (and organization specific) variables that explain pay differentials (e.g., time with company, education, etc.), there is concern among organizations that the state can use this pay data to falsely claim that organizations have pay inequities and launch investigations.
Although this pending legislation is specific to California employers, it's imperative for organizations to be prepared for any agency that has the authority to investigate potential discrimination by proactively reviewing and understanding how their data would appear to the regulatory agency should they be investigated for disparity claims. In addition to proactively looking at the pay data, organizations should also examine their compensation philosophies, current pay structures, results and processes related to both external market benchmarking and internal equity by race, gender, and other available data related to diversity, equity and inclusion. Berkshire recommends that any compensation equity analysis be done under attorney client privilege (whether that be internal or external counsel).
If you have questions about collecting and analyzing compensation and related data, Berkshire can help. Contact us at bai@berkshireassociates.com.