If you're an HR and compliance professional you're most likely in the process of managing your 2016 Affirmative Action Program. Are you aware of the latest compliance requirements? Are you preparing for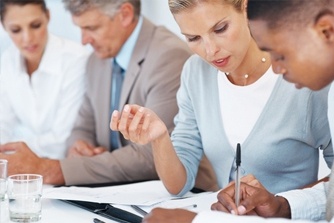 what's ahead for the remainder of the year?
To effectively manage the changes ahead, federal contractors need to be proactive in their approaches to managing new agency requirements and policies. From audits to pay transparency, there is much ground for HR professionals to cover. Managing agency enforcement efforts is vital to your company's success. To help make the process easier, Berkshire has developed a free white paper, "New Year, New Compliance: What to Focus on in 2016."
Download the white paper now to learn about the following topics:
Analyzing AAPs after a full year under the new regulations
Of specific interest is how OFCCP is analyzing AAPs after a full year under the revised Individuals with Disabilities and Veterans regulations. Any plan developed after March 24, 2015, must comply with all of the new requirements.
Gone are the days where companies can state they are "working on complying" and expect OFCCP to accept that answer without follow-up. Download this white paper to find out what these requirements are.
OFCCP's Fall 2015 Regulatory Agenda and additional updates
OFCCP has three items listed in its Fall 2015 Agenda, in varying stages of development, that will impact compliance in 2016.
OFCCP's revision to the Sex Discrimination Guidelines
The Equal Pay Report
The revision to construction contractors' affirmative action requirements
To learn about the additional regulatory changes, click here to download the white paper.
Impact of election year on federal contractors
With 2016 being an election year, changes in office could greatly impact federal contractors. If the current administration wants any of their proposed rules finalized, conventional wisdom is these rules should be settled by the end of November, 2016. Contractors can expect a flurry of activity as the current administration attempts to complete any outstanding proposed regulations and rules before they leave office.
Predicted audit focuses for 2016
Heading into 2016, existing and new audits are continuing to focus on reviews of contractor compensation. There has been an uptick in requests to speak with Compensation Managers, or whomever is in charge of salary decisions, both at the location under audit and for the organization as a whole. These interviews take place over the phone or in conjunction with an onsite visit, and cover topics such as:
Compensation policies
Starting pay
Other types of compensation (bonuses, commissions, overtime, etc.)
Merit increases
Self-audits, salary surveys, or pay equity studies the contractor has conducted, and what adjustments were made as a result
Download this white paper now to learn more about the above topics, and how to plan for the enforcement efforts that will impact your company.