Understanding industry trends often leads to insights on how to best align your recruiting strategy with the needs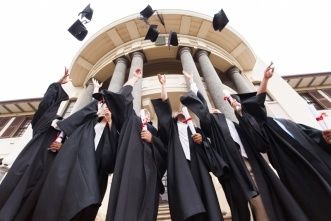 of the market. A recent study from the Center on Education and the Workforce at Georgetown University highlighted some eye-opening statistics on whom jobs are going to after the recession of 2008.
Degrees get the job
Around 11.6 million new jobs were created after the Great Recession, according to the study. Of the total, 8.4 million openings were filled by people who had, at the minimum, a bachelor's degree. Another 3.1 million employment opportunities were given to those who had at least an associate's degree or some relevant college experience. Just 80,000 people who only had a high school diploma found work.
The results aren't exactly as startling as they are an affirmation of the current economic climate. For recruiters, the numbers provide keen insight into how much their targeted efforts have changed in just the last decade.
Re-positioning for success
The underlying theory of this revelation is the job market is becoming flooded with applicants who have at the very least some college experience. Recruiters must recognize how other companies are hiring to position their process for success.
The best way to position a hiring process for success is to understand the makeup of the demographic which needs to be targeted. The majority of recent college graduates are Millennials.This means companies must have a targeted outreach plan in place to improve their chances of attracting these qualified candidates. According to Monster.com, "Milllennials are looking for more than just a peek behind the curtain at a prospective employer—they want real life examples of what it's like to work there." One way to display work place culture and an employer brand is by using social media as a recruitment tool. Pictures, videos, and industry related content posted to social media exposes Millennials and other qualified candidates to your company, increasing the chances of attracting and retaining the talent you need. To assist organizations in navigating the use of social media as a recruitment tool, Berkshire created "The Impact of Social Media on Targeted Outreach," a white paper and guide to attracting the hire you desire.
Another step in positioning a hiring process for success is to have technology in place which will improve the efficiency of the process. An applicant tracking system (ATS) allows HR departments to rank résumés based on keywords. This automated process would essentially streamline how efficiently recruiters can separate the college graduates from those not qualified for the position. This gives a recruiter ample time to connect with the applicant, set up a meeting, and interview them before another company does.
With the average hiring process taking up to 52 days, according to a Deloitte study, it is imperative companies try to speed it up to get in contact with candidates sooner. Since college graduates are coveted in every field, and the Georgetown University report proves it, time is increasingly becoming of the essence to land the perfect prospective employee.
According to a Glassdoor study, the most important consideration a job applicant takes for a new job is salary. CNN Money reported 2.8 million jobs paying $53,000 or more went to those with a bachelor's degree between 2010 and 2014. It's obvious contract negotiations play a key role, and should carry considerable weight when crafting a recruitment process focused on attracting this type of talent.
By leveraging an ATS and utilizing targeted outreach, HR departments can identify potential candidates with college educations for their job listings faster, which opens the door to a quicker hiring time.