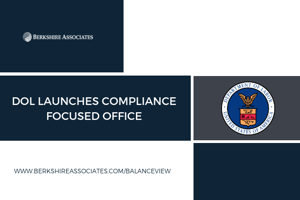 Recently, the Department of Labor (DOL) announced it is creating a new sub-office tasked with helping businesses comply with more than 100 safety, wage, and benefit laws the Department administers. The office will be labeled as the Office of Compliance Initiatives (OCI) and will work with the DOL's enforcement-focused sub-agencies on compliance outreach activities. In addition, the agency will develop new ways to use data to strengthen compliance and help enforce the law.
The announcement on Tuesday, September 4, 2018, coincided with the agency's new unveilings of Worker.gov and Employer.gov, which provide FAQs on topics such as pay and discrimination. Other OCI duties will include assisting DOL sub-agencies "refine their metrics to ensure the department's compliance assistance work is effective, facilitating and encouraging a compliance assistance-focused culture within the agency and enhancing outreach to businesses." The office will be part of the DOL's Assistant Secretary for Policy.

The effectiveness of the new compliance office will depend on how it complements enforcement efforts and if businesses and workers can take advantage of the tool and find it effective and a good use of resources.