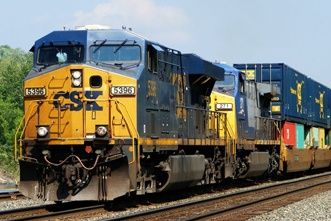 The Equal Employment Opportunity Commission (EEOC) has filed a suit against CSX Transportation stating the company has created discriminatory barriers for women seeking jobs with the company. Since 2008, CSX Transportation has used an isokinetic strength test known as the IPCS Biodex as a requirement for workers to be selected for various positions. This test measures the upper and lower body muscle strength of workers. The EEOC has found that women have passed this test at a lower rate than their male counterparts and alleges a discriminatory impact on females that were seeking positions such as Conductors, Material Handlers/Clerks, as well as various other positions.
The IPCS Biodex is not the only employment test being used by CSX. The company also administers two other tests to workers seeking positions within the company. One test is used to measure the aerobic capacity of the worker, while another test is used to assess arm endurance. Women also passed at lower rates in both these tests when compared to men.
According to the complaint made by the EEOC, CSX declined to hire a class of women for a range of positions they sought with the company because they failed these employment tests, leading to a company-wide discrimination against female workers because of their sex. Title VII of the Civil Rights Act of 1964, prohibits employment practices (such as tests) that are administered to all applicants and employees regardless of sex, but that cause disparate impact on persons of a particular sex (in this case females). Employers that are using a test as part of their employment selection process must prove the practices being tested are necessary for the safe and efficient performance of the positions for which the test is being used. If the necessity of the test is proven to be true, the test may still be prohibited under Title VII if other alternative practices can be shown to achieve the objectives of the employer without an adverse impact on a protected group.
The case has been filed in the U.S. District Court for the Southern District of West Virginia in Huntington. This comes after the attempt to reach a settlement through the administrative conciliation process was not successful. The EEOC is seeking injunctive relief and court-ordered job reinstatements, as well as payment of monetary remedies (both past and future lost wages) for all female workers adversely impacted by the testing procedures. We will continue to follow this lawsuit and provide updates as they becoming available.
Subscribe to BALANCEview HR Blog and stay tuned as we monitor this and other EEOC events.