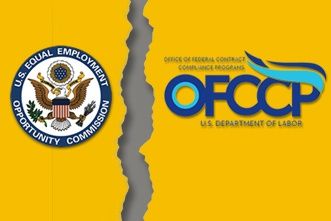 The Senate Appropriations Committee rejected the proposed merger of the Department of Labor's, Office of Federal Contract Compliance Programs (OFCCP) with the Equal Employment Opportunity Commission (EEOC). Business and civil rights groups opposed the merger and without Senate support the merger will not happen. The Senate appropriations bill urges OFCCP to find efficiencies since the funding is being reduced. Recommendations include reorganizing the OFCCP's infrastructure and establishing "skilled regional centers." The Senate funding bill will eventually need to be reconciled with the House bill that would fund OFCCP at a much lower rate than proposed by the Senate.
OFCCP will have 180 days to report to the committee on a plan to "consolidate and right size the agency." The agency must also report on the status of efforts to implement recommendations from the Government Accountability Office that were published a year ago. This report will be due to the House committee 160 days after the funding bill is enacted.
Federal contractors should continue to follow this blog to see what changes are in store.