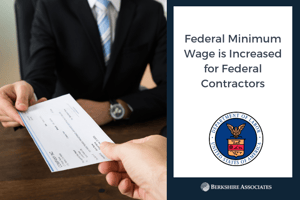 According to a final ruling announced by the Department of Labor in September 2017, the hourly minimum wage for employees performing work on or in connection with federal contracts will be raised as of January 1, 2019. For organizations covered by Executive Order 13658, the new rates will be $10.60/hour (from $10.35/hour) and $7.40/hour (from $7.25/hour) for tipped employees.
The increase was determined based on the annual percentage increase in the Consumer Price index for Urban Wage Earners and Clerical Workers (CPI-W), United States city average, all items, not seasonally adjusted, as published by the Bureau of Labor Statistics. The calculation found the CPI-W increased 2.337 percent from the preceding year, which, rounded to the nearest multiple of $0.05, raised the rate to $10.60/hour. Tipped employees were paid at 70% of the minimum wage beginning in January of 2018, so keeping this methodology and rounding to the nearest multiple of $0.05 raises their rate to $7.40/hour. If the worker's tips combined with this rate do not equal at least $10.60/hour, the contractor must increase the wage to make up the difference.
There are a few exclusions to this rule: FLSA-covered workers who provide support for less than 20 percent of their hours worked in a week to a covered contract may not be entitled to this wage. Some full-time students, apprentices under subminimum wage certificates, certain occupations, and some contracts are exempt from this rule.
Executive Order 13658 went into effect January 1, 2015, establishing the hourly minimum wage for federal workers at $10.10/hour. The Secretary of Labor has discretion to change the rate annually and must provide notice to the public at least 90 days before the rate takes effect. Contracts covered under Executive Order 13658 include the following:
(1) A procurement contract for construction covered by the Davis-Bacon Act (DBA)
(2) A contract for services covered by the Service Contract Act (SCA)
(3) A contract for concessions, including any concessions contract excluded from coverage under the SCA by Department of Labor regulations at 29 CFR 4.133(b)
(4) A contract in connection with federal property or lands and related to offering services for federal employees, their dependents, or the general public
Federal contractors should prepare now for the increase coming in just a few months. Contractors are required to notify workers of the new rate. To review the full document click here.