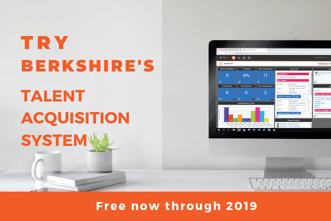 For a limited time, Berkshire is offering a free subscription to balanceTRAK now through 2019. With hiring practices under scrutiny and OFCCP's focus on enforcement, companies need a system that supports smart hiring practices. That's why Berkshire created balanceTRAK—a talent acquisition system purpose-built to streamline recruitment efforts and help you comply with OFCCP and EEOC requirements. Take advantage of this offer today!
BalanceTRAK also provides the perfect hub for joining forces with your hiring managers, and creates a unified experience for your internal team. You can forward résumés, evaluate candidates, and together, weigh-in on which job seeker moves to the next step. Features like workflow automation, requisition management, and email notification reduce communication breakdowns and prevent the loss of star candidates. Click here to take advantage of this free offer.
The benefits of

balanceTRAK:
Automate processes for greater consistency
Support inclusive hiring practices and comply with AA/EEO requirements
Engage today's job seekers with modern communications tools
Achieve better team collaboration
Improve data collection and recordkeeping
For more information about this promotion, contact us at 800.882.8904 or click here.