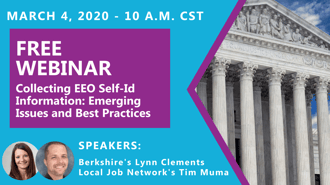 Berkshire is pleased to announce that our very own Lynn Clements will join forces with LocalJobNetwork's Tim Muma to present on emerging issues and best practices surrounding EEO Self Identification!
When: March 4, 2020 from 10-11:30 a.m. (CST)
What: [Free Webinar] Collecting EEO Self-ID Information: Emerging Issues and Best Practices
Who: Lynn Clements, Esq of Berkshire and Tim Muma of LocalJobNetwork
Employers have expressed a lot of frustration when it comes to getting applicants and employees to self-ID for EEO requirements and OFCCP's obligations for veterans and IWDs.
Lynn Clements, Director of Regulatory Affairs for Berkshire, joins LocalJobNetwork to give employers and federal contractors some best practices for improving the collection of self-ID data. Lynn breaks down what changes can be made to ensure you get as much accurate information as possible for your outreach.
In this free webinar, you will learn:
To develop a deeper awareness of EEO self-ID requirements
How to manage emerging self-ID issues, such as non-binary gender
What to focus on for IWDs and veterans
Best practices for increasing self-ID rates across the board
Live Q&A (11am-11:30am CST)