Earlier this month, Gap featured a young girl in a wheel chair in an advertisement (featured to the right) for their fall children's collection. The use of this child in the clothing advertisement not only attracted children with disabilities and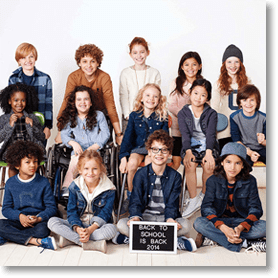 parents of children with disabilities, but also anyone with an understanding of the importance of diversity and inclusion. According to author, T. Hudson Jordan of the Diversity Journal, diversity is "all the ways we differ" and inclusion "puts the concept and practice of diversity into action."
Gap is gaining recognition as a company willing to display their acceptance of diversity through inclusion. Last year, the company was recognized and thanked by many when a model, wearing a turban, was featured in a Gap advertisement. The advertisement, discussed in "How to Be Sexy in a Turban? The Importance of Inclusion," and Gap's more recent advertisement both exemplify a dedication to diversity and inclusion. By steering away from the typical models used in ads, Gap appeals to a wide range of individuals. Whether trying to attract new customers or potential candidates, the ability to attract and retain a diverse group of people is a practice all organizations need to utilize. A diverse workplace is imperative to the success of any organization. Workplace diversity has many benefits including:
A wide range of perspectives; creates dissent, eliminating sameness and generating effective problem solving
Exposure to working and cooperating with those with varying backgrounds
Greater creativity and innovation
When creating a diverse workforce, it is important for organizations to attract a diverse group of talent during the recruitment process. This is when inclusion practices are to be displayed. Similar to Gap's approach to attract a variety of consumers through inclusion, organizations should also use approaches which ensure interest from a diverse group of potential candidates. Here are some tips to increase diversity and inclusion in your recruitment process:
Ensure marketing material is appealing to all target groups
Highlight your organization's commitment to creating a diverse workplace
Create an employer brand which embraces a variety of people and workforce balance
Once again, Gap has displayed and taught us all a lesson in inclusion training by demonstrating effective diversity efforts. Let's join Gap in reaching a diverse audience by actively trying to appeal to a diverse group of top talent.

To learn more about diversity and inclusion in the workplace, please read "How Effective Workplace Diversity and Inclusion Practices Impact Your Organization." For additional information please contact Berkshire Associates at 800.882.8904 or bai@berkshireassociates.com.