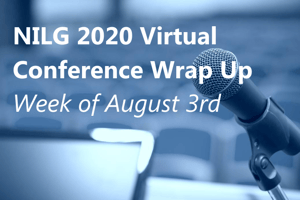 Berkshire's consultants are attending the NILG 2020 Virtual Conference Webinar Series, which is a series of complementary webinars in July and August. Below is our round up of a few sessions from this week:
Other Regulations and Laws Impacting Your Compliance Obligations
This session cautioned federal contractors not to operate in a bubble of affirmative action laws and regulations and to be aware of the intersection or overlapping of EO 11246, Section 503 of the Rehabilitation Act and VEVRAA with Title VII, Americans with Disabilities Act (ADA), Family and Medical Leave Act (FMLA), among others. Below are recent legal updates and court decisions that could affect a federal contractor's compliance obligations:
Title VII – prohibits discrimination based on race, color, religion, sex, national origin. A recent SCOTUS ruling (Bostock v. Clayton County, Georgia) determined that Title VII prohibits discrimination based on sexual orientation and gender identity in that it is "because of sex".
NLRB – a recent ruling restores Pre-Browning-Ferris standard for joint employment.
For Joint Employment, a business must possess and exercise substantial direct and immediate control over at least one essential term and condition of employment of another employer's employee;
Substantial Direct and Immediate Control: Actions that have a "regular or continuous consequential effect" on one of the 8 core aspects of a worker's job: wages; benefits; hours of work; hiring; discharge; discipline; supervision; direction.
Implication for federal contractors: When considering who to include in your AAP(s)/EEO-1/VETS-4212, all "employees" must be included.
FMLA – OFCCP has increased its scrutiny around leave and accommodations, especially during the COVID-19 pandemic. Employers are prohibited from interfering with, restraining, or denying FMLA rights and from retaliating/discriminating against employees for "opposing any practice made unlawful" by FMLA;
Implication for federal contractors: consider intersection with EO 13706 (Paid Sick Leave) and Section 503 and obligations for matters involving sickness, or caring for sick family members, staying home to avoid exposure, and time off for parents/caregivers due to school closures.
ADA – Section 503 and ADA both require a prompt interactive process. Employers should provide accommodations that are reasonable and do not create an undue hardship; an accommodation is a change to application or hiring process, the way the job is done, or the work environment that allows a qualified individual with a disability to perform essential functions of that job.
Implication for federal contractors: recent EEOC guidance due to COVID-19 includes an evolution of remote work as an accommodation; jobs that can only be performed at the workplace; pre-existing illness exacerbated by pandemic-related stress; "Undue hardship" on employers to accommodate due to pandemic; and temperature testing at workplace (confidentiality or privacy concerns)
FLSA – Final Rule was effective 1/1/2020. No change to duties tests and no automatic increase; annual threshold for executive, administrative and professional exemptions increased to $35,568 per year ($684 per week); annual minimum compensation for highly compensated employees increased to $107,432.
Implication for federal contractors: must be careful that compensation adjustments don't cause internal pay equity issues.
Employers and Religious Rights – There can be conflicts with other non-discrimination obligations; ministerial exception may apply.
Expanding the Talent Pool: Leading Practices in Disability Disclosure and Inclusion
Carol Glazer, President of the National Organization on Disability (NOD), presented data from NOD's Disability Employment Tracker, a free 90-minute survey that gives companies a scorecard comparison to a pool of companies on five interdependent areas of successful disability workforce inclusion: Strategy and Metrics; Talent Sourcing; Workplace and Technology; People, Policies, and Practices; Climate and Culture. Results from the tracker show that employment rates for individuals with disabilities are starting to level off at an average of 4% with little change from the prior year.
NOD presented four channels of sourcing talent and their corresponding effectiveness:
Disability Job Boards (most used, but very low effectiveness)
Community Partners (most effective)
On-campus disability recruiting (also highly used, but not very effective)
Existing non IWD specific channels (not highly used)
Keys to successful IWD employment include a solid foundation of trust and inclusion that comes from the top down, frequent messaging, partnership with disability organizations, and an IWD-friendly recruiting process based on etiquette training, applicant accessibility, and using new networks. Diversity initiatives should go beyond race and gender to include disability. Director Leen encouraged employers to implement engagement surveys for employees with disabilities, employee resource groups (ERGs), and a culture of inclusivity throughout the career lifecycle, not only during onboarding.
OFCCP hopes to see more self-identification as a result of the new form and more outreach. Director Craig Leen announced the agency will be "doubling down" on the 7% benchmark and that contractors not at 7% will be asked what efforts are being made to get closer to 7% in all compliance reviews, not just the focused 503 reviews. Promotion and compensation opportunities for individuals with disabilities will be reviewed in audits and OFCCP will be looking for disparate impact of layoffs and reductions in force on individuals with disabilities due to COVID-19.
Director Leen stated that OFCCP will be conducting accommodation focused reviews that look at disability and religious accommodations. Also, there will be more 503 focused reviews and these reviews will continue even after his departure from OFCCP.
Moving the Needle on Strategic Diversity
The purpose of this session was understanding the stage of organizational measurements for diversity and inclusion. Based on the 2019 Strategic Diversity Measurements survey, 87.9% of organizations are effectively tracking workforce demographics and the needle on diversity has moved substantially between 2015 and 2019; however, most organizations feel they have a lot of work to do to assess and measure the impact of their D&I programs.
Recommendations for advancing D&I programs:
Track – Utilize measurement tools to track workforce demographics and representation
Assess – Assess current programs and data. Identify issues like problematic drop-off in the recruitment pipeline. Note key predictors for dissatisfaction and turnover and areas for intervention and improvement.
Design – Design programs based on assessment and use of analytics to address bias and disparities. Expand scope beyond workforce demographics: 1. look into organizational diversity such as roles, tenures, and job titles; 2. be able to diversify on a secondary level keeping in mind religion, sexual orientation, and parental status; 3. diversify on the primary level race, gender, and IWD or Veteran status; 4. build a method to include D&I into all phases of talent management of corporate function and embedded throughout the organizations.
Measure – Create goals and timelines on when goals should be in place. Understand the metrics that can be used to measure the progress and impact of D&I on other business tasks such as recruiting and employee retention.
Report – Report results to senior leadership, internal and external stakeholders. Be able to share vital D&I metrics with mid-level managers in easy to read reports.
Repeat – Strategy should be ongoing, and processes repeated. Make sure process is sustainable and that individuals can be held accountable for implantation of working strategies. Continue to track, asses, measure, and report data.
Berkshire will continue to report on NILG sessions throughout the summer.