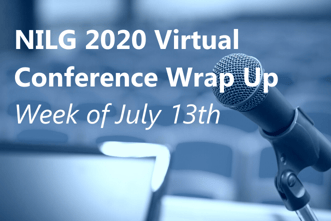 Berkshire's consultants are attending the NILG 2020 Virtual Conference Webinar Series, which is a series of complementary webinars in July and August. Below is our round up of a few sessions from this week:
Diversity & Inclusion
The presenters outlined the differences between equal employment opportunity, affirmative action, diversity, and inclusion. Organizations should work through each step before moving on to the next level – so full regulatory compliance is a foundation needed for successful diversity initiatives and diversity is necessary for a true inclusion model. Organizations should ensure decisions made to increase diversity in the organization are based in neutral practices, for example, "blind" resume reviews. Organizations should be aware of "unwritten rules" and replace them with standard practices to ensure equal access.
OFCCP Policy Update
Tina Williams, OFCCP's Director of Policy and Program Development, Christopher Seely, Acting Deputy Director of Policy, and Marcus Stergio, OFCCP's Ombudsman, recapped recent agency movement. The speakers indicated that the agency's COVID-19 related exemption will not be extended; that a religious exemption final rule is forthcoming; reviewed the four directives issued thus far in 2020; and outlined initiatives for the rest of the year, which include new recognition programs, town hall meetings, construction audit updates, and technical assistance guides.
Early Resolution Conciliation Agreements
The Early Resolution Conciliation Agreement (ERCA) is a relatively new option for contractors that allows a shorter path to audit closure. Rather than going through all the steps that lead to a typical conciliation agreement, the review can be closed more quickly through a negotiation with the agency, and this process has been used to close more than one audit. The first set of ERCAs represent about 200 contractor establishments (and two functional AAPs) and $28M in monetary recoveries. Contractors are not audited for a period of five years after entering into the agreement, but there are self-audit procedures, including monitoring reports that need to be submitted to the agency generally every six months.
Berkshire will continue to report on NILG sessions throughout the summer.