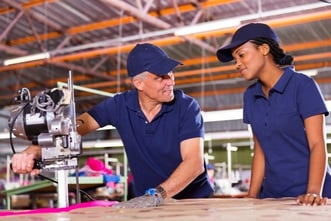 In May 2017, Office of Federal Contract Compliance Programs (OFCCP) entered into a conciliation agreement with Guntersville, AL protective clothing supplier Kappler, Inc., to settle allegations of steering within its hiring process. The agreement alleges that between December 2012 and December 2014, Kappler, Inc. failed to consider female applicants for Cutter and Floor Worker positions, while placing only female applicants in Sewer positions.
The agreement outlines the sources OFCCP used to come to this determination, including interviews with a variety of people involved in the process – employees involved in the hiring process, human resources personnel, applicants who were rejected for positions, and representatives from third party staffing organizations. The agency also cites anecdotal evidence gathered during the investigation as supporting its conclusion that applicants were placed into either Sewer or Cutter and Floor Worker positions based on sex and not on legitimate differences in qualifications. The agreement includes a recordkeeping violation for failure to preserve employment records and information that would allow the contractor to complete required adverse impact analyses of its selection process.
Kappler, Inc. has agreed to pay a total of $5,500 in back pay and interest to 11 class members, and will make employment offers to these individuals, until two have been hired or the class member list has been exhausted. The company has agreed to review and revise its hiring and job placement policies and procedures, and provide training to all employees involved in hiring. An interesting piece of this agreement is not only has Kappler, Inc. agreed to provide training, but the training must include a post-training test that both Kappler, Inc. and OFCCP deem acceptable, to ensure individuals who have completed the training understand and can implement the revised procedures.
While this conciliation agreement includes a monetary settlement that is small in comparison to others OFCCP has reached this fiscal year, it is an important one of which contractors to be aware. OFCCP has been telling the federal contractor community for the past few years that steering is one of their top priorities, and we continue to see the effects of that in audits. This is the second financial conciliation agreement related to steering to come out of OFCCP's Southeast region since the start of 2017. Contractors in that region should be particularly aware of the potential for steering concerns in a compliance review.