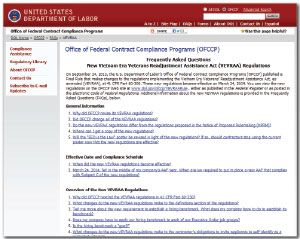 As part of its on-going effort to provide guidance to the contractor community, OFCCP has posted two new Frequently Asked Questions (FAQs) regarding Section 503 of the Rehabilitation Act of 1973 (Section 503) and the Vietnam Era Veterans' Readjustment Assistance Act (VEVRAA). These laws prohibits federal contractors and subcontractors from discriminating in employment against individuals with disabilities (IWDs) and protected Veterans, and requires these employers to take affirmative action to recruit, hire, promote, and retain these individuals.
The Section 503 FAQ addresses the ways in which contractors may store self-identification information in compliance with the revised Section 503 regulations, and provides several options. The VEVRAA FAQ addresses how contractors may list jobs that are remote, full-time telework positions in compliance with VEVRAA's mandatory job listing requirement.
These FAQs are available, along with other resources and guidance materials, on the OFCCP website at:
To learn more on affirmative action compliance regarding hiring Veterans and IWDs, we recommend reading:
Berkshire will continue to monitor this situation and provide updates if they become available. For more information, please contact us at 800.882.8904 or bai@berkshireassociates.com, or sign up to get notifications and updates.
If you would like more information on the fundamentals of OFCCP Compliance, check out our page here!