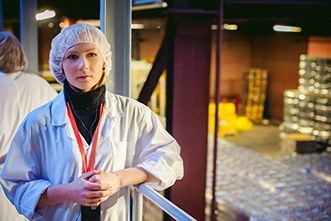 The Office of Federal Contract Compliance Programs (OFCCP) has entered into a conciliation agreement with Birds Eye Foods, LLC to settle allegations of hiring, placement, and housing discrimination at its location in Darien, Wisconsin. OFCCP alleges three separate violations of discrimination. The first violation alleges hiring discrimination against female applicants for fulltime and seasonal laborer positions. The second violation alleges placement discrimination against Hispanics for fulltime laborer positions. The third allegation is that Birds Eye discrimination against females by failing to provide temporary housing to female seasonal workers. In total, the monetary settlement of all claims amounts to just over one million dollars. All allegations cover the period September 24, 2010 through at least September 24, 2012.
OFCCP contends that analysis of the hiring data submitted revealed that Birds Eye Foods' selection procedures had an adverse impact for hiring qualified female workers in fulltime and seasonal laborer positions when compared to male applicants, with a shortfall of 23 female hires, 7 in fulltime positions and 16 seasonal workers. The conciliation agreement details that Birds Eye Foods will distribute $269,000 in back pay and interest to 404 "Violation 1" class members. Additionally, Birds Eye agreed to make offers to women for 7 fulltime and 16 seasonal positions.
"Violation 2" alleges that, based on a review of personnel activity, Birds Eye discriminated against Hispanic employees who were employed as seasonal laborers and were not offered fulltime positions. The agreement specifies that 146 qualified Hispanic employees were not selected for fulltime positions as compared to White seasonal laborers, with a shortfall of 38. The monetary settlement for this alleged violation is $700,768. As of the effective date of the agreement, Birds Eye had already hired 25 of the 146 eligible class members. Therefore, the shortfall for which Birds Eye remains responsible for hiring is 13 fulltime Hispanic employees from the list of eligible class members.
The third violation alleges that Birds Eye discriminated against 11 female seasonal laborers. The OFCCP claims that "Violation 3" class members were not offered temporary housing, while this benefit was offered to male seasonal workers. OFCCP asserts that the denial of this benefit to women migrant workers significantly limited their employment opportunities. Birds Eye agreed to pay these 11 women a total of $39,110, which represents the subsidy the employees would have received during the period these employees would have resided in housing during the review period. Birds Eye also agreed to provide female migrant seasonal laborers housing that is comparable to what male migrant seasonal laborers are provided. The cost to Birds Eye to construct this housing is approximately $400,000.
Over and above the monetary and employment related remedies, Birds Eye Foods has agreed to a number of non-monetary remedies based on technical violations in the Affirmative Action program. OFCCP cited violations in Bird Eye's recordkeeping, organizational profile, job group analysis, availability analyses, and failure to list employment openings with a state workforce agency job bank or a local employment service delivery system.
This conciliation agreement covers three different violations. The one violation that is most unusual is the failure to offer a housing benefit to women, while offering that benefit to male workers. Federal contractors should be mindful to look at all compensation and benefits programs to ensure all employees are provided access to the benefits offered without regard to race, ethnicity or sex.