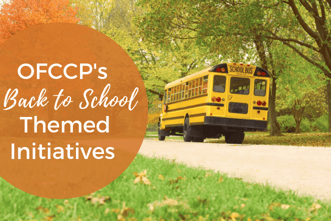 This week, just in time for back to school, OFCCP released three new initiatives with a student related focus. The first is a set of FAQs for those organizations that have multi-building establishments that are campus-like in nature such as universities, hospitals, and larger companies. The FAQs say that these types of organizations may have a single AAP or multiple AAPs depending on a variety of factors. Contractors should consider the following when determining if their campus should have one or more AAPs.
What is the function of the building, and how do the employees in the building interact with employees in other buildings?
Are employees across different buildings part of the same organizational unit, such as department, division, section, branch, group, job family, or project team?
Are the hiring, compensation, and other personnel decisions handled separately at each building or are those functions consolidated across the entire contractor or across multiple buildings on one campus?
Does each building handle its own recruitment or is that function consolidated across multiple buildings?
Do the buildings recruit from the same labor market or recruiting area?
To what extent are other human resources and Equal Employment Opportunity compliance functions operationally distinct for each building or group of buildings?
To what extent do certain employees perform work functions across various buildings?
OFCCP's guidance is to prepare a separate plan in situations where the buildings operate independently and prepare a single AAP when the building are intertwined. If the contractor determines it is appropriate to combine buildings into a single AAP, they should annotate all of their buildings in the organizational profile section of their AAP. The FAQs can be found here.
The second initiative is Directive 2019-05, providing colleges and universities guidance on whether student workers should be included in AAPs. The directive states, "OFCCP will not cite violations for excluding student workers from AAPs or personnel activity data submissions in compliance evaluations. OFCCP will, however, continue to accept and consider complaints filed by and on behalf of student workers at these educational institutions, and its evaluations of the employee status of any such student workers will be guided by the Darden factors and other legal principles."
OFCCP explained that the amount of time spent on the limited student worker data prolonged the compliance review process and pulled their focus away from the non-student worker population. The directive can be found here.
The third initiative is a new webpage developed as part of the White House Initiative on Historically Black Colleges and Universities. The webpage contains resources for federal contractors such as links to job boards and Diversity & Inclusion Program samples. The site can be found here.
Be sure to subscribe to this blog for future updates.