Office of Federal Contract Compliance Programs' (OFCCP) audits can be an overwhelming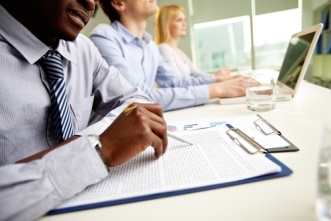 experience for federal contractors and subcontractors. But by understanding the agency's requirements and enforcement trends, companies can be prepared. Here are three major areas OFCCP continues to focus on during audits:
Technical compliance
Personnel activity
Compensation
OFCCP's review of these three areas is more extensive than ever before because of two reasons. First, the requirements contractors have to comply with have increased significantly, and second OFCCP requires more detailed data in the initial submission—thanks to the agency's 2014 revisions to its Scheduling Letter and Itemized Listing that is used for every compliance review.
Technical Compliance
When it comes to technical compliance, making sure you met all requirements, and have available documentation to demonstrate your compliance, is a must. Typical agency requests include the following:
VETS-4212 Reports
Proof of listing with the Employment Service Delivery System (ESDS)
Copies of policies such as the EEO-AA Statement of Policy, maternity leave, nondiscrimination, and anti-harassment policies
Copies of purchase order statements with the correct EEO language
List of outreach efforts and a written evaluation of the effectiveness of recruitment and outreach efforts for Individuals with Disabilities (IWD) and Protected Veterans (PV)
Copies of employment application, notification of AAP viewing hours, and self-identification forms
Documentation of review of mental and physical qualifications and personnel processes
List of accommodations for IWD
Labor union notification
Personnel Activity Review
The updated Scheduling Letter and Itemized Listing changed the way OFCCP reviews the personnel data a contractor submits during an audit. If you consider yourself a proactive contractor, you must understand how the agency will analyze your data before you come under audit. Taking this approach allows you to understand what questions OFCCP may ask and avoids surprises.
For example, the agency is currently running more in-depth impact ratio analyses on the summary personnel activity data that contractors submit in every audit. OFCCP receives enough information to analyze every contractor's personnel activity data by sub-minority groups—and that is exactly what the agency does. OFCCP can examine the data by favored group, by comparing one particular race to all others, such as Whites versus Total Minorities, and by looking for Hispanic preference and other similar issues. With more data being provided upfront there are countless ways to look at the data, and the question is not if there are indicators—but where the indicators are.
While contractors can often explain selection decisions with job-related criteria and documentation, audits take much longer than in previous years because of the amount of analyses that can be conducted. Beyond the data, OFCCP can, and will, request additional information such as hiring, promotions, and termination procedures. Numerous times, OFCCP's follow-up questions about a contractor's summary personnel activity open the door to even more questions and an in-depth investigation that might involve interviews and even an on-site visit from the agency.
While not entirely new, we have seen the agency going beyond the summary data and documentation on a more routine basis. For example, in recent audits the agency has asked questions about how the contractor decided who was an "applicant" under the agency's Internet Applicant Rule. In other recent audits, the agency has requested data about all expressions of interest received—not just those that were an Internet Applicant. Compliance Officers may even reach out to applicants who were not selected. For example, in a recent audit, OFCCP sent questionnaires to all applicants in a job group it was investigating. The 18-question form sought verification from job seekers about how they applied, and the candidate's prior experience and education—among other items.
Compensation
Compensation continues to be an area of focus in audits. Item 19 of the Scheduling Letter requests individual employee-level pay data, including "other compensation data" which is any pay beyond annualized salary or wages. In many audits, the Compliance Officer seeks to conduct a "compensation manager" interview to gather more specific information about how pay decisions are made. This information is then used to request additional "pay factor information" for every employee in the workforce.
Recently, as part of a West Coast establishment's audit, the Compliance Officer reached out to the organization's global compensation professional to gather information on how pay decisions were being made at the facility under audit. The compensation professional explained that, besides many other factors, performance was a factor in how employees were paid at the organization. The Compliance Officer's attention shifted to this one factor—performance ratings data, and a burdensome data request followed. Needless to say, there have been many conversations to try to clarify the compensation manager's statement and shift OFCCP's attention to the factors that do determine pay.
What To Do
Overall, the trend in affirmative action compliance is increased requirements and more in-depth investigations in audits. If you want to not only do the "right thing," but successfully survive an OFCCP audit, make sure you comply with the technical requirements and become more proactive in analyzing and understanding your personnel actions and compensation decisions. Most importantly, understand what your AAP says about your organization, and what follow-up questions OFCCP may have if your plan was audited. The stakes are higher than ever now, and no contractor can afford to be unprepared.
For more information on the latest audit trends and enforcement updates, or for affirmative action planning and audit support, please contact a Berkshire compliance expert at 800.882.8904.
This article was written by Andrea Csordás, PHR, SHRM-CP, and Lynn Clements Esq.