Final Update:
January 20, 2021: President Biden issued the On Advancing Racial Equity and Support for Underserved Communities Through the Federal Government executive order, which among other things, formally revoked EO 13950.
------------------------------------------------------
Update: OFCCP has released a notice informing contractors that it has immediately suspended the complaint hotline and email address, will hold investigations of received complaints in abeyance, and will not request information from the public with regards to trainings potentially in violation of the Executive Order. In addition, the agency will not enforce the purchase order notification requirements. The Biden administration is expected to formally revoke this order within days of assuming office on January 20, 2021.
------------------------------------------------------
As an update to our previous post, the San Jose Division of the United States District Court of Northern California granted a partial but nationwide injunction to Executive Order (EO) 13950, Combating Race and Sex Stereotyping. The injunctive relief applies to sections 4 and 5 of the EO addressing federal contracts and federal grants.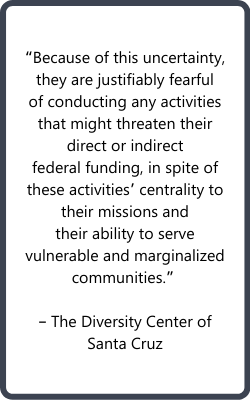 The order granting nationwide preliminary injunction follows an early December hearing of Santa Cruz Lesbian and Gay Community Center, et al. v. Donald J. Trump, et al. The plaintiff group is comprised of non-profit community organizations and consultants across the country who serve the LGBT community, people of color and women. At the heart of their mission is advocacy and training on the concepts of bias that the EO not only prohibits but deems "anti-American." The plaintiffs filed the lawsuit in early November, alleging the EO violates the First and Fifth Amendments, protecting free speech and due process, resulting in the "chilling effect" of potentially losing contracts or funding for unknowingly violating the EO while engaging in training activities on concepts necessary to support and further their advocacy.

The injunction prescribes the following relief regarding Sections 4 (the requirements for Federal Contractors) and 5 (the requirements for Federal grants) of the Order:

• No need to include provisions in contracts or subcontracts regarding workplace training on the concepts as outlined in the EO
• No need to provide notice of commitments under the EO
• Contracts cannot be canceled, terminated or suspended
• Contractors and subcontractors cannot be deemed ineligible for contracts
• No need to include language in subcontracts or purchase orders binding others to the EO
• Hotline to collect information on noncompliance is not in use
• Requests for Information will not be published, and
• Grant programs will not require recipients to certify compliance with the Order,

The preliminary injunction remains in effect until further order of the court. The EO is likely to be revoked by the incoming Biden administration.