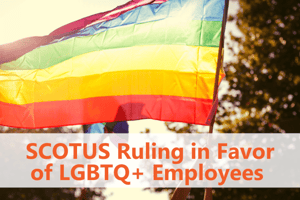 "In Title VII, Congress adopted broad language making it illegal for an employer to rely on an employee's sex when deciding to fire that employee. We do not hesitate to recognize today a necessary consequence of that legislative choice: An employer who fires an individual merely for being gay or transgender defies the law."
This week, in a 6-3 decision, the Supreme Court of the United States decided employment discrimination based on sexual orientation or gender identity is prohibited under Title VII of the Civil Rights Act of 1964. Writing for the Court, Justice Gorsuch addressed three cases where employees were fired by their employers because of being either gay or transgender. The Court held that, regardless of what the drafters of the Civil Rights Act had originally anticipated, the gradual expansion of defining prohibitions based on sex includes sexual orientation and gender identity.
The cases decided were Bostock v. Clayton County, GA, Altitude Express Inc. v. Zarda, and R.G. & G.R. Harris Funeral Homes Inc. v. Equal Employment Opportunity Commission. The first two were cases where employees were fired by their employers because of being gay and the last involved an employee who was terminated for informing her employer that she would embrace her gender identity at work.
The Court's reasoning is that taking action against an employee for their sexual orientation or gender identity requires an intentional consideration of sex. Gorsuch writes
"If the employer fires the male employee for no reason other than the fact he is attracted to men, the employer discriminates against him for traits or actions it tolerates in his female colleague. . . Or take an employer who fires a transgender person who was identified as a male at birth but who now identifies as a female. If the employer retains an otherwise identical employee who was identified as female at birth, the employer intentionally penalizes a person identified as male at birth for traits or actions that it tolerates in an employee identified as female at birth."
This is based in decades of Supreme Court precedent holding that sex discrimination is not limited to simply the biological definition of "sex" but additionally prohibits discrimination based on stereotypes and expectations of gender (Price Waterhouse v. Hopkins, 1989), hiring practices allowing different standards for male and female applicants (Phillips v. Martin Marietta Corp, 1971), disparate company policy impacting one sex over another (Los Angeles Dept. of Water and Power v. Manhart, 1978), or sexual harassment when the harasser is the same sex as the victim (Oncale v. Sundowner Offshore Services, Inc., 1998).
The Court finds the broad language of the Civil Rights Act, which did not specify any exceptions to how "sex" would be defined, shields LGBTQ+ employees from employer recourse under Title VII.