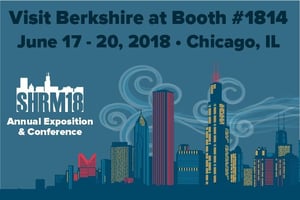 Make your way to Berkshire Associates' booth #1814 at the SHRM 2018 Annual Exposition & Conference from June 17- 20 in Chicago, IL. This annual conference offers HR professionals a fun and engaging educational experience. SHRM's speakers discuss the many challenges HR professional are currently facing and provide them with practical and ready to implement solutions.
Berkshire's staff is excited to connect with you in Chicago. Our booth will be filled with great giveaways and tons of helpful tips and tactics to fit your company's needs—big or small. See you in the windy city!
This year Berkshire brings two great presenters to the session lineup:
Beth Ronnenburg
President, Berkshire Associates
How to Audit Your Applicant Tracking Process for Compliance
Tuesday, June 19 at 7 a.m.
Michele Hester
Senior Client Services Manager
Pay Equity Compliance: Effective Strategies for Managing and Ensuring Fair Pay in the Workplace
Tuesday, June 19 at 10:45 a.m.
A full schedule of the event sessions and speakers can be found
here
.