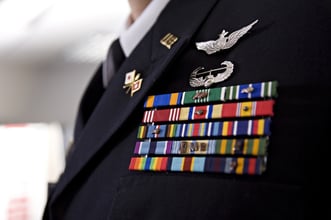 BY MARTIN BERMAN-GORVINE
Employers wishing to hire Veterans can use "skills translation" to understand how their military experiences can give them excellent preparation for civilian jobs.
The "soft skills and personal attributes" that Veterans exit the service with are what's most valuable to civilian employers, Walter Herd, a retired colonel who heads the Soldier for Life Transition Assistance Program in Fort Knox, Ky., told Bloomberg BNA Sept. 20.
Some hard skills Veterans learned in the military aren't directly applicable to civilian life, he said, while other Veterans who did learn skills from the military, such as being a mechanic, may want to do something else in their civilian lives. "Don't limit a soldier to their military specialty skill," Herd said.
"The Army steels them to be a little more healthy, a little more disciplined, to have a little better work ethic than the average American," said Herd, who oversees 600 TAP counselors scattered across the nation. Veterans are more likely to show up on time and turn ambiguous instructions into a plan of action, he said. Combat soldiers can be especially good at moving directly into civilian employment, he said.
A Civilian-Military Disconnect
But newly minted Veterans may not know how to describe the panoply of experiences they have from the military in terms that are attractive to civilian employers, Erin Kwiatkowski, a consultant with Columbia, Md.-based HR consulting firm Berkshire Associates Inc., told Bloomberg BNA Sept. 18.
For example, she said, "medics know what skills they have, but others who have done so much on a daily basis have difficulty pinpointing that and getting it on paper for recruiters."
The Army's transitioning services are especially helpful to young Veterans without academic degrees, she said, but Veterans who make officer rank and then leave the service in their early thirties may "have difficulty conveying what an officer does on a daily basis."
For their part, employers should work to overcome stereotypes about what Veterans are likely to have learned in the military, according to Gretchen Van Vlymen, Vice President at Chicago-based HR consulting firm StratEx. Veterans may be stereotyped into "blue-collar" jobs even though they are just as capable of white-collar work, she told Bloomberg BNA Sept. 19. Like Herd, she stressed Veterans' soft skills such as "ability to work in a team, leadership, focus, accountability, and an ability to work through processes."
Although it's true that "employers are making a really good effort" to hire Veterans, Kwiatkowski said, "there's still a big disconnect between transitioning service members and employers."
As a military spouse herself with many friends who are Veterans, she said that people leaving the military are often unaware of how avidly employers may be seeking them and that federal contractors in particular have an annual Veterans hiring mandate of seven percent.
Nor should employers rest easy once they've hired Veterans. "Employers should offer Veterans on-the-job training and certification opportunities to help make them feel more comfortable and empowered to succeed in their new role," Susan Vitale, chief marketing officer at iCIMS, a talent acquisition software provider based in Matawan, N.J., told Bloomberg BNA in a Sept. 19 email. She also suggested giving Veterans who are employees opportunities to mentor colleagues who were never in the military.
With 130,000 members of the military returning to civilian life annually—two-thirds of them regular service members and the rest National Guard, reserves, and the like ending limited tours of duty—the pool of worthy veteran job candidates will only continue to grow. The good news, according to Herd, is that more of these transitioning Veterans go through the Soldier for Life program every year and there has been a corresponding drop in Veterans' unemployment.
---
To contact the reporter on this story: Martin Berman-Gorvine in Washington at mbermangorvine@bna.com
To contact the editors responsible for this story: Peggy Aulino at maulino@bna.com; Terence Hyland at thyland@bna.com; Chris Opfer at copfer@bna.com
The U.S. Department of Labor has a website with veteran recruiting resources at https://www.dol.gov/veterans/employers/local.htm.