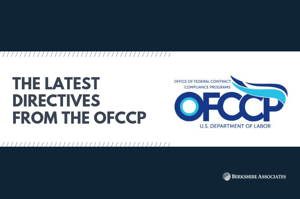 The OFCCP announced two new directives on Wednesday, September 19, 2018. Acting Director Craig Leen announced the Transparency in OFCCP Compliance Activities Directive and the OFCCP Ombud Service Directive, which brings to nine the number of Directives issued thus far this year.
The Transparency in OFCCP Compliance Activities Directive (DIR 2018-08) is the most recent directive that shines a light on how compliance reviews are conducted by the agency. This directive extends the transparency efforts of OFCCP to all aspects of the compliance review, allowing for contractors to better understand and comply with their obligations and know what to expect during a compliance review. The roles of the National Office, Regional, and Field Managers and Staff are outlined in this Directive, and the audit process is reviewed in detail from scheduling to conciliation.
The second directive is the OFCCP Ombud Service Directive (DIR 2018-09). This directive creates an Ombud Service in the national office, which will be used to facilitate fair and equitable resolutions for specific types of concerns raised by the contractor community. The development of this directive comes after an initial report conducted by the Government Accounting Office back in September 2016 and numerous Town Hall meetings with contractors and other external stakeholders (industry groups, law firms, contractor representatives), in which the contractor community voiced a fear of reaching out to OFCCP for guidance, as it may call attention to their organization and open them up to a compliance review. This program will serve as a place for contractors to voice any issues or concerns they may have with an impartial and independent party, without the fear of enforcement from the agency.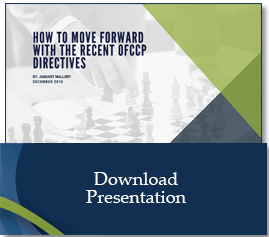 Download to Learn More About Complying with Recent OFCCP Directives
Both directives that were announced are reflective of the OFCCP's commitment to transparency with the contractor community. More information on both directives can be found here.
Subscribe to BALANCEview to stay up-to-date on OFCCP directives as they are announced.