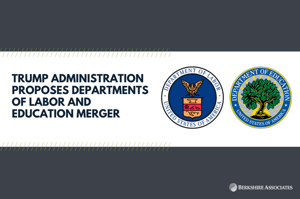 As a part of continuing effort to remake the federal government, the Trump Administration proposed a merger of the Department of Labor (DOL) and the Department of Education (DOE) into a new "Department of Education and the Workforce."
In a press release, the White House proposes merging the departments in an effort to centralize decision making and reduce administrative costs.
The new proposed Department would be made up of four sub-agencies:
K-12 – Focusing on public education
American Workforce and Higher Education Administration – A consolidation of the responsibilities of the DOL's VETS, Disability Employment Office, and Employment & Training Administration and the DOE's higher education programs.
Enforcement – A consolidation of the DOL agencies responsible for worker protection and the DOE's Office of Civil Rights.
Research, Evaluation, and Administration – Consolidation of the DOE's Institute of Education Sciences and the DOL's program evaluation agencies.
The OFCCP would be housed in the Enforcement sub-agency.
It is of now unclear what specific streamlining is expected by the merger of the two agencies, and any merger of the departments must be approved by Congress. Proposals to eliminate the Department of Education have been floated since the 1980s, and even before in the Trump administration when workforce development programs were proposed to be moved to Department of Education's purview.
Given the requirement for congressional approval to move ahead on restructuring these two departments, most experts do not expect the Administration's proposal to move beyond the proposal stage.