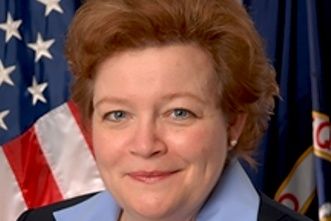 The U.S. Equal Employment Opportunity Commission (EEOC) announced on January 25, 2017, that President Trump appointed Commissioner Victoria Lipnic as the Acting Chairperson. Lipnic replaces Chair Jenny Yang who began as a Commissioner in 2013, and was appointed Chair by President Obama in 2014. This type of change is typical as a new Administration begins to take shape and appointments are made. Yang remains an EEOC Commissioner and according to EEOC's website her term ends July 1, 2017.
Lipnic has served as a Commissioner since 2010 when she was appointed by President Obama. She was also appointed to a second term in 2015 by President Obama. In response to the appointment as Chair Lipnic said:
"I am honored and humbled to be chosen by President Trump to serve as Acting Chair of EEOC, the agency which safeguards the civil rights of American workers. I believe equal employment opportunity is critical to all Americans and to how we define ourselves as a nation. I look forward to working with the President, my colleagues at EEOC, Congress, and, of course, the American people in this critical task."
Commissioner Lipnic was a featured speaker at the National Industry Liaison Group (NILG) Conference held in Charlotte, NC last summer. She drew rousing applause from attendees who were primarily federal contractors and advisors when she shared that she was not in support of the most recent changes to the EEO-1 report where salary and hours-worked are being added to the report. Lipnic acknowledged there appears to be a wage gap, particularly for women who leave and re-enter the workforce. However, she proposed putting the focus on addressing reasons for the gap, rather than requiring employers with 100 or more employees to make significant investments in system changes so they can report pay and hours information in their EEO-1 filings.
Lipnic has a long and varied background that qualifies her to be Acting Chair of the EEOC. Prior to her tenure at the Commission she was U.S. Assistant Secretary of Labor for the Employment Standards Administration from 2001-2009. In that role she oversaw the Office of Federal Contract Compliance Programs (OFCCP); the Wage and Hour Division (WHD); the Office of Workers' Compensation Programs (OWCP); and the Office of Labor Management Standards (OLMS). She was responsible for regulatory changes affecting the Fair Labor Standards Act and Family and Medical Leave Act and for OFCCP's first-ever guidance on Compensation Discrimination. Commissioner Lipnic earned a B.A. degree in Political Science and History from Allegheny College and a J.D. degree from George Mason University School of Law. Immediately prior to her first appointment at EEOC she was of counsel to the law firm Seyfarth Shaw LLP in its Washington, D.C. office.
The EEOC is a bipartisan Commission comprised of five presidentially appointed members. The Chair is responsible for the administration and implementation of policy for and the financial management and organizational development of the Commission. The Vice Chair and the other three Commissioners participate equally in the development and approval of Commission policies, issue charges of discrimination where appropriate, and authorize the filing of lawsuits. In addition to the Commissioners, the President appoints a General Counsel to support the Commission and provide direction, coordination, and supervision to the EEOC's litigation program. The General Counsel position and one Commissioner position are vacant at this time.
Subscribe to this blog to receive updates as Berkshire watches the changes unfold.