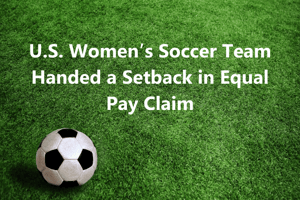 The U.S. Women's National Team (USWNT) suffered a legal blow with their lawsuit against the U.S. Soccer Federation after a federal judge dismissed key arguments of the lawsuit seeking compensation equal to the men's national team. The judge ruled against the notion that the women receive less pay than the men because of the difference in negotiated compensation structures. The judge also dismissed the argument of unequal working conditions regarding the number of games competed on turf versus real grass pitches. A number of studies have shown that turf surfaces increase the risk of injuries, and the women's team competes on turf more often than the men's team.

The USWNT have filed two motions to continue the legal battle. The first motion is to postpone the trial scheduled to start on June 16 as it would afford them more time to consolidate their points. The second motion is to be able to appeal last week's ruling against their Equal Pay Act claims.

Experts recommended the USWNT reframe arguments and determine if there is more evidence their players have been undervalued by the U.S. Federation. One of the complications in the lawsuit is that the women's team had pushed for guaranteed pay as part of compensation, whereas the men's compensation is based on a "pay-to-play" structure. The USWNT pushed to have a compensation structure that guarantees pay regardless of number of matches, and this approach stems from the pay discrepancies of women and men at the professional club level. This difference in structure complicates a direct comparison between the compensation that the national teams receive. The experts recommended that USWNT shift focus to what the men would make if they were as successful as the women's team, and away from what the women would make under the men's compensation structure.

The ruling eased the pressure on the U.S. Soccer Federation after legal arguments highlighted that "women were rightfully paid less because they have less skill than male players and the men's game is more challenging". This claim was made despite the USWNT's success and the fact that both genders play 90-minute matches. It is interesting to note that in world level tennis, women have earned the same payouts as men in tournament play for more than a decade. The matches are played under different structures for the genders, with women competing for the best out of 3 sets and men playing to 5 sets. We will continue to provide updates on this high profile pay equity case.