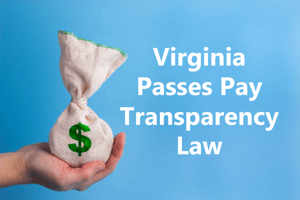 Lack of pay transparency is often cited to be a major hurdle for progress in the decades-old movement towards equal pay between women and men. While the actual impact of pay transparency on equal pay is yet to be seen, there is continuing momentum at the state and local level to adopt pay transparency laws.
Virginia is the latest of over 20 states to pass a pay transparency law. The new law goes into effect July 1, 2020 and covers all employers. The law protects employees who discuss wages with other employees, either sharing their own salary information or inquiring about coworkers' compensation, or who file a wage discrimination claim with the Department of Labor, from being terminated or retaliated against by their employer. Virginia's Department of Labor and Industry has the authority to assess civil penalties against an employer for each violation.
While many states have not adopted their own pay transparency laws, employers who are federal contractors or subcontractors must adhere to pay transparency regulations under Executive Order 11246, which went into effect in January 2016. For more information about pay transparency and equal pay protections by state, visit https://www.dol.gov/agencies/wb/equal-pay-protections. For FAQs about OFCCP pay transparency regulations, visit https://www.dol.gov/agencies/ofccp/faqs/pay-transparency.