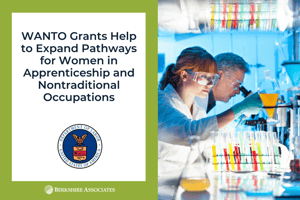 On July 17, 2018, the U.S. Department of Labor Women's Bureau announced that grants ranging from $250,000 to $500,000 would be awarded to as many as six recipients under the WANTO grant program. Women in Apprenticeship and Nontraditional Occupations ("WANTO") is a technical assistance grant program available to eligible Community-Based Organizations (CBOs) who apply as a single applicant or as part of a consortium of CBOs. The purpose of the program is to encourage employers and labor unions to employ women in industries where women have traditionally been underrepresented, or concentrated in lower-paying jobs, such as manufacturing or IT, by:
"Developing pre-apprenticeship or nontraditional skills training programs designed to prepare women for careers in apprenticeable occupations and nontraditional occupations ("A/NTO");
Providing ongoing orientations for employers, unions, and workers on creating a successful environment for women in A/NTO; and/or
Setting up support groups and facilitating networks for women in A/NTO to improve their retention."
Research conducted on behalf of the U.S. Department of Labor (DOL) found that fully proficient workers who participate in apprenticeship programs earn an average starting annual salary above $60,000 and have higher lifetime earnings than workers who do not complete training through an apprenticeship program. Additionally, employers who participate in the apprenticeship programs have seen cost savings due to a decrease in turnover and/or an increase in productivity. However, the U.S. DOL Office of Apprenticeship found that less than 10% of registered apprenticeship program participants are women, despite women comprising almost half of the labor force. The grants available through WANTO aim to increase the number of quality pre-apprenticeship programs available to ultimately remove barriers that women face in A/NTO occupations.
The full announcement, description of the funding opportunity, and application package can be found at Grants.Gov.