The national unemployment rate is expected to further dwindle to 4.4%. While this is great for the economy, large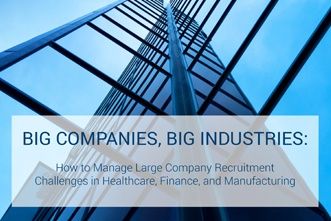 companies face the unintended consequence of finding the right talent in a candidate-driven market. Specifically, the finance, healthcare, and manufacturing industries face unique issues around the scarcity of talent. The finance industry is losing elite expertise to the lucrative technology sector in Silicon Valley. In the healthcare industry, requirements for candidates have also changed—creating more demand than supply of potential workers. Although the job market is candidate-driven, companies in the manufacturing sector still have difficulty finding qualified, skilled workers.
To help recruiting professionals tackle the precise problems big companies face, Berkshire developed this free white paper, "Big Companies, Big Industries: How to Manage Large Company Recruitment Challenges in Healthcare, Finance, and Manufacturing." This white paper includes:
Trending issues which hinder recruiting efforts at large companies
Analysis and identification of key indicators of market trends
Methods to overcome recruiting challenges large companies will face in 2017
Large companies have always had the ability to source many candidates, but finding qualified, top talent is becoming more difficult by the day. This FREE white paper examines the hiring complexities found in the finance, healthcare, and manufacturing industries and offers solutions to ease the process and find top talent.