The Human Capital Institute (HCI) will hold the 2017 Workforce Planning and People Analytics Conference in Miami, Florida,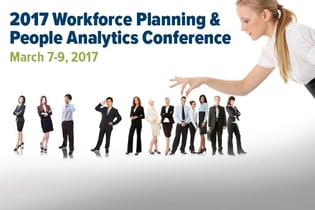 March 7-9. At this conference, HCI will bring together HR executives, strategic planners, analysts, and business leaders to share innovative solutions to common challenges resulting in smarter, data-driven talent decisions. Topics include:
Engaging the Business for more Holistic People Planning
Risk- speak the language of the CEO
Cost and growth- speak the language of the CFO
HRIS architecture- selecting the right technology
Fine-Tuning the Workforce Planning Process for more Accurate Futurecasting
Segment roles to determine which roles have business priorities
Conduct a critical workforce scan to identify trends that affect the business
Identify skills gaps to achieve a desired future state
Using Predictive Analytics to Gain Deeper Insights Into Your Future Workforce
Address succession gaps
Measure attrition and its impact
Creating a TA dashboard for better hiring
More information on this event can be found here.