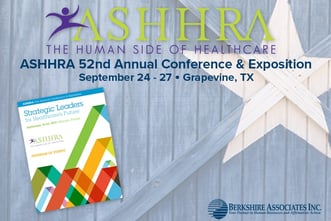 September 24-27, in Grapevine Texas, Berkshire joins HR professionals in the health care industry at the American Society for Healthcare Resources Administration (ASHRAA) 52nd Annual Conference & Exposition. ASHRAA is exclusively dedicated to meeting the professional needs of human resources leaders in health care. The conference is an oppurtunity for these professionals to enhance their healthcare knowledge, become aware of trends in health care HR, and network with other professionals.
Berkshire understands the unique needs of HR professionals in the healthcare industry. Some of the problems health care organizations face during the recruitment and hiring processes are managing a high-volume of applicants, sourcing cadidates with specialized skills, and immediate need for multiple new hires. As an exhibitor at the conference, Berkshire will demonstrate how the BALANCEtrak Applicant Tracking System manages these issues with features such as:
Prescreening which saves time by eleminating unqualified job seekers
Integrated services with job boards helping HR expand outreach efforts
Requsisition management which coordinates all aspects of the hiring process and stores applicant information in one centralized location
For more information about the event, or you would like to register for this event, please click here. We hope to see you there!