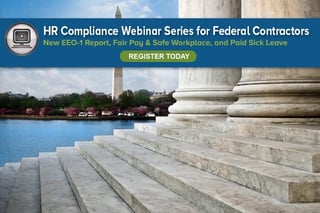 New requirements for the EEO-1 Report begin with the 2017 reporting cycle, and will be due by March 31, 2018. Five Things You Need to Know About the New EEO-1 Report, the first webinar in Berkshire's HR Compliance Series, gives attendees practical guidance on what the EEOC expects from employers. Register today for this webinar on November 2, and learn from Berkshire's Director of Regulatory Affairs and former policy advisor to the DOL, Lynn Clements, the impact of the new EEO-1 requirements in five important, yet easily digestible parts.

The webinar topics are as follows:
The importance of assessing pay data in today's regulatory environment

Reporting requirements for W2 wage data, pay bands, salary reporting, and hours worked

EEOC and OFCCP's use of the collected data for investigations and reports

Who must file and how to prepare now

Strategies for conducting proactive compensation analyses
This FREE webinar series informs and educates attendees on recent regulatory changes and their requirements. The second webinar, How to Implement the New Paid Sick Leave Requirements, will be held on November 30. Register today for both and be prepared! No Consultants Please.
About the presenter: Lynn Clements is a former policy advisor at the DOL and served as the Acting Director of the Policy Division of OFCCP. She oversees OFCCP compliance audits for Berkshire clients and serves as a strategic advisor regarding EEO and Affirmative Action regulations.