Beth Ronnenburg, President of Berkshire Associates, SPHR, SHRM-SCP, and Lynn Clements Esq., Director of Regulatory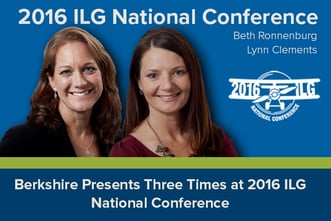 Affairs at Berkshire Associates, will collaborate together, as well as with Jackson Lewis and CVS Health, for three separate presentation sessions during the 2016 ILG National Conference in Charlotte, NC. These sessions will examine the latest compliance and recruitment strategies impacting federal contractors and subcontractors.
On August 3 at 10:00 a.m., Lynn partners with Jennifer Seda and Michael Duncan from Jackson Lewis to present How to Design and Implement a Strategic Applicant Tracking System. When set up properly, a well-developed ATS can protect employers in OFCCP audits—while still getting to the best candidates as quickly as possible. During this session attendees will learn valuable information, including:
How to use the Internet Applicant Rule to develop a strategic and compliant applicant tracking system
How to effectively use screening questions and disposition codes
How and when to search for candidates, pre-employment tests, and information storage
At 11:45 a.m., also on August 3, Beth and Lynn will work together to present What Would You Do: Play Along as We Address Real World Affirmative Action Dilemmas. During this interactive session attendees will use electronic polling devices to analyze real life affirmative action (AA) predicaments, such as responding to the new Scheduling Letter, or overcoming manager resistance to hiring Individuals with Disabilities. Through discussion, attendees will learn the pros and cons of different approaches to contemporary AA compliance issues—and how those decisions impact an organization's compliance strategies.
On August 4 at 10 a.m., Beth joins Ivy Latimer from CVS Health to present The Vital Role of the AA/EEO Practitioner in Managing Mergers & Acquisitions. Affirmative action and EEO professionals are often thrown into a merger and acquisition after the deal has been made, and are told to make sure all parties are still in compliance. This presentation reviews the merger and acquisition process from an AA/EEO perspective, and provides attendees with a checklist to help them be an active participant from the due diligence step to the close of the transaction.
If you would like to have one of Berkshire Associates' expert presenters speak at your organization's next event, please contact us today.